Staten Island's Best Happy Hour!
From Monday through Friday, Marina Cafe's Happy Hour goes 3pm to 6pm.
Everybody loves a good Happy Hour & Marina Cafe offers one of the best in all of New York City. Do you like to relax after a long day and meet up with good friends for a great meal & drinks? Then you should absolutely come down to Marina Cafe for our Happy Hour, which runs all day on Mondays and from 3pm to 6pm Monday through Fridays.
Our Happy Hours are the perfect time to bring friends or even schedule after-work outings with co-workers. Bring a date and start with drinks and work your way into one of our many robust entrees fit for two. No matter who you bring with you, they are sure to be impressed by, not only the food & drinks but the sleek, welcoming atmosphere of Marina Cafe that catches the eye with its modern nautical touches that truly set the tone for a relaxing & enjoyable time out.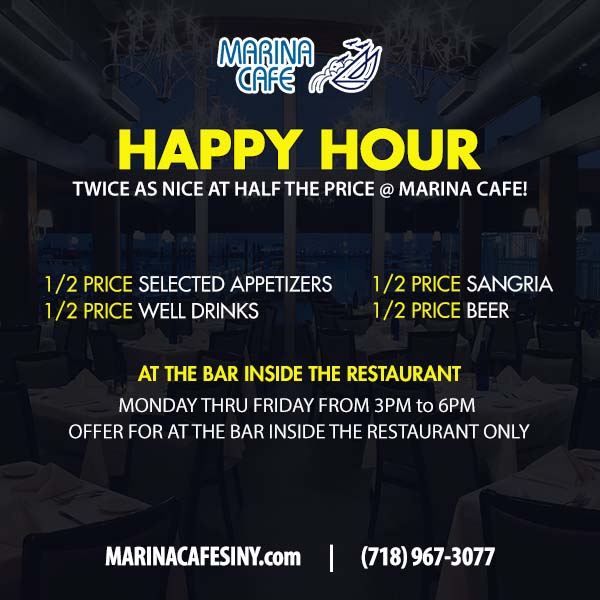 If you have a food allergy, please notify us.
The Marina Cafe is a harbor-view restaurant specializing in seafood and American cuisine. Featuring beautiful views of Great Kills Harbor, the Marina cafe is the perfect venue for parties of distinction!
Enjoy Marina Cafe's Staten Island catering at our home, or order and pick it up for yours. Luncheons, Bridal & Baby Showers, Birthday Parties, and all other events are welcome!
Looking to book an event? Have a question about our menu or hours? Need catering? Fill out the form below and we'll get back to you as soon as possible.
About the Marina Cafe
The Marina Cafe is a harbor-side restaurant on Staten Island featuring beautiful views of the Great Kills Harbor. We've been proudly serving Staten Island for over 40 years.

CONTACT US
Address: 154 Mansion Avenue Staten Island, New York, 10308  [map]
Phone: (718) 967-3077
Fax: (718) 967-0386
HOURS
Mon-Thu: 12:00 pm - 10:00 pm
Fri-Sat: 12:00 pm - 1:00 am
Sun: 1:00 pm - 9:00 pm