People's Choice Package
Staten Island Catering For Parties of Distinction
Baked Clams, Polpette, Shrimp Oreganata, Eggplant Rollatini, Mussels.


Fresh Mozzarella, Roasted Peppers, Vine Ripe Tomatoes, Salami, Sopressata, Caponata & Mixed Imported Olives

Mezza Rigatoni Alla Vodka
Third Course
All Entrees Served With Chef's Vegetable and Potato
Spinach, Prosciutto, & Mozzarella Cheese


Rolled with Provolone Cheese, Asparagus, Seasoned Bread Crumbs


Char Grilled New York Steak

Merlot Demi Glaze


Shrimp, Clams, and Day Boat Fish


Lobster, Maryland Crab Meat, Brandy/Lobster Buerre Blanc

Columbian Coffee, Assorted Tea Service, Espresso, and Cappuccino

Personalized Occasion Cake
Complete Package with Unlimited Beer, Wine, and Soda $75Open Bar (House Brand) $85Open Bar (Premium) $90
Planning an event on Staten Island? Marina Cafe has you covered with their People's Choice Package, sure to impress guests of all ages! It's perfect for everything from Birthdays and Retirement Parties to workplace events and Spring & Summer family gatherings.
Enjoy four courses complete with Unlimited Beer, Wine, and Soda for $75; an Open Bar (House Brand) for just $85; or a Premium Open Bar for only $90.
Our first course is served Family Style and includes classic hot & cold Antipasto. Including hot offerings like Baked Clams, Polpette, Shrimp Oreganata, Eggplant Rollatini, Mussels; as well as Cold Antipasto such as Fresh Mozzarella, Roasted Peppers, Vine Ripe Tomatoes, Sopressata, Caponata & Mixed Imported Olives.
Our second course provides your guests with one of three delicious pasta delights, including Mezza Rigatoni Alla Vodka, Fusilli in Bolognese Sauce, and Mezza Rigatoni Pomodoro. No matter which choice you go with, your guests and family members are sure to love it.
Make room for the main course, because Marina Cafe has designed five delicious choices for your guests that will get them talking. You get your choice of our Stuffed Chicken with Spinach, Prosciutto, & Fontina Cheese; Veal Braciole, rolled with Fortina Cheese, Asparagus, and Seasoned Bread Crumbs; Char Grilled New York Steak with a Merlot Demi Glaze; Baked Seafood Oreganata featuring Shrimp, Clams, and Day Boat Fish; and our classic Seafood-Stuffed shrimp.
But what's an in-house gathering without dessert? Your fourth and final course comes complete with our Colombian Coffee, Assorted Tea Service, Espresso, and Cappuccino; A Personalized Cake for your event; and Unlimited Soda.
So whether you are throwing a workplace dinner, a birthday party, religious gathering, or just having some family over for a memorable evening; Marina Cafe has you covered with a four-course package that will have your guests stuffed and delighted.
For more information, or to book your party, call us at (718) 967-3077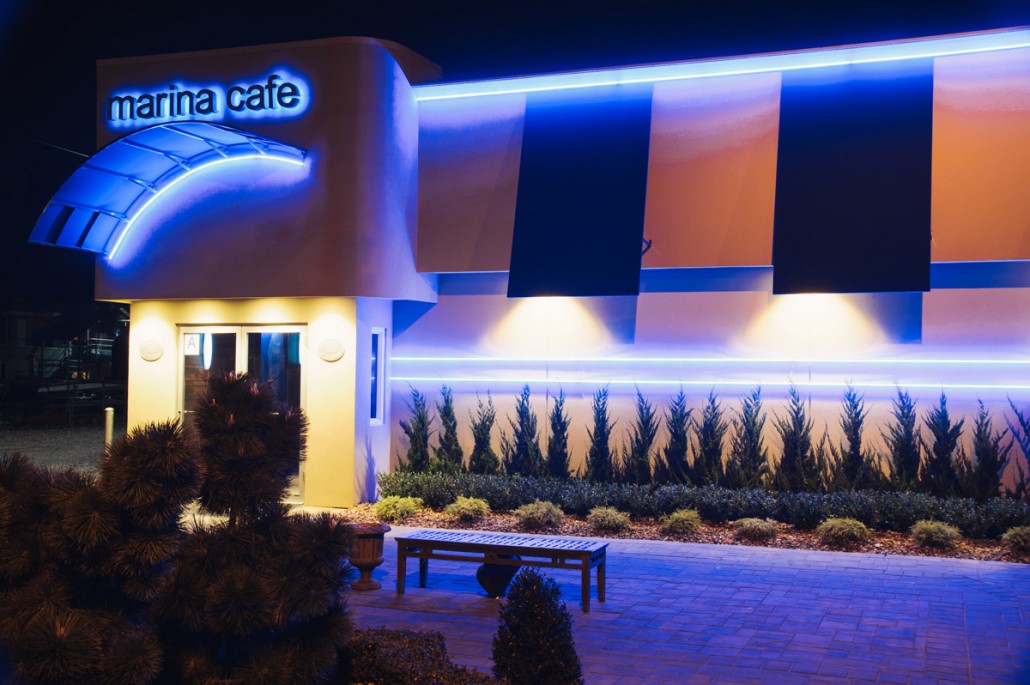 The Marina Cafe is a harbor-view restaurant specializing in seafood and American cuisine. Featuring beautiful views of Great Kills Harbor, the Marina cafe is the perfect venue for parties of distinction!
Enjoy Marina Cafe's Staten Island catering at our home, or order and pick it up for yours. Luncheons, Bridal & Baby Showers, Birthday Parties, and all other events are welcome!
Address:
154 Mansion Avenue Staten Island, New York, 10308 [
map/directions
]
Phone: (718) 967-3077
Fax: (718) 967-0386
Contact Us
Looking to book an event? Have a question about our menu or hours? Need catering? Fill out the form below and we'll get back to you as soon as possible.
About the Marina Cafe
The Marina Cafe is a harbor-side restaurant on Staten Island featuring beautiful views of the Great Kills Harbor. We've been proudly serving Staten Island for over 35 years.
Contact us
Address: 154 Mansion Avenue Staten Island, New York, 10308
Phone: (718) 967-3077
Fax: (718) 967-0386
Hours
Mon-Thu: 12:00 pm - 10:00 pm Fri-Sat: 12:00 pm - 1:00 am Sun: 1:00 pm - 9:00 pm