Staten Island Bridal
&

Baby Shower Catering

Bridal Shower Catering and Baby Shower Catering From Marina Cafe
Fresh Mozzarella, Roasted Peppers, Vine Ripe Tomatoes, Sopressata, Caponata & Mixed Imported Olives

Broccoli Rabe, Sun-dried Tomatoes, Italian Sausage, and Risotto

Mezza Rigatoni Alla Vodka
Breast of Chicken, Cardonnay/Lemon/Butter Sauce


Rolled with Provolone Cheese, Asparagus, Seasoned Breadcrumbs


Lobster, Maryland Crab Meat, Brandy-Lobster Buerre Blanc


Grilled Chicken Capricciosa

Organic Mixed Greens, Grape Tomatoes, Red Onion, Parmesan Shavings, and Balsamic Vinaigrette


Fillet of Salmon Dijonaise

Chardonnay/Grain Mustard Sauce

All entrées served with Chef's potato and vegetable of the day
Dessert
Columbian Coffee & Assorted Tea Service
Espresso, Cappuccino, & Unlimited Soda
Personalized Occasion Cake
$45 Per Person
*plus NY sales tax and 20% service charge*
Staten Island Bridal
&

Baby Shower Catering
Marina
 Cafe's Signature 
Shower
 Celebration Menu is perfect for your next Staten Island Baby Shower or Staten Island Bridal 
Shower
 event.
At just $45 per person, you won't find a better restaurant anywhere on Staten Island that can provide this much quality in their food as well as in the ambiance. Perfectly complementing your guest's meals, our beautiful view of the harbor is second to none and provides a relaxed, nautical atmosphere that is stylish and modern without being overbearing or detracting from your bridal or baby shower.
Start your meal off with our family-style Antipasto; including Fresh Mozzarella, Roasted Peppers, Vine Ripe Tomatoes, Salami, Sopressata, Caponata & Mixed Imported Olives. As well as specialty Italian Eggrolls stuffed with Broccoli Rabe, Sun-dried Tomatoes, Italian Sausage, and Risotto.
Then choose one of our delicious Italian Pasta dishes: Mezza Rigatoni Alla Vodka or Mezza Rigatoni Pomodoro.
After pasta, comes our homemade hot entrees; such as our Chicken Francese with succulent Chicken Breast with Chardonnay, Lemon and Butter Sauce; our tender Veal Braciole rolled with Provolone Cheese, Asparagus and Seasoned Bread Crumbs; or our Grilled Chicken Capricciosa with Organic Mixed Greens, Grape Tomatoes, Red Onion, Parmesan Shavings and Balsamic Vinaigrette.
But maybe you feel like digging into some of Marina Cafe's signature seafood entrees? We've got you and your guests covered with our succulent Seafood Stuffed Shrimp, stuffed with Lobster, Maryland Crab Meat, and Brandy-Lobster Buerre Blanc; as well as our Fillet of Salmon Dijonaise with savory Chardonnay and Grain Mustard Sauce.
When you have your shower at Marina Cafe, you and your guests are the focus and our delicious entrees and world-class atmosphere are there to heighten and punctuate your special day.
So the next time you are thinking about where to have a bridal or baby shower, contact us at Marina Cafe and let our expert chefs and servers help you have an event that you won't soon forget.
Place Your Order Now! (718) 967-3077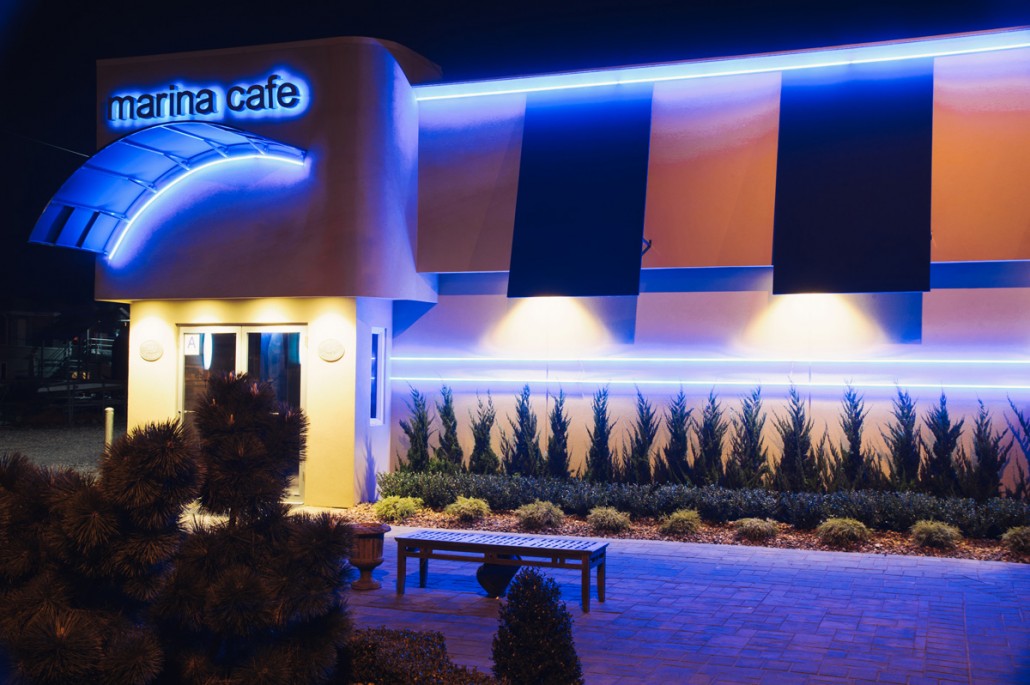 The Marina Cafe is a harbor-view restaurant specializing in seafood and American cuisine. Featuring beautiful views of Great Kills Harbor, the Marina cafe is the perfect venue for parties of distinction!
Enjoy Marina Cafe's Staten Island catering at our home, or order and pick it up for yours. Luncheons, Bridal & Baby Showers, Birthday Parties, and all other events are welcome!
Address:
154 Mansion Avenue Staten Island, New York, 10308 [
map/directions
]
Phone: (718) 967-3077
Fax: (718) 967-0386
Contact Us
Looking to book an event? Have a question about our menu or hours? Need catering? Fill out the form below and we'll get back to you as soon as possible.
About the Marina Cafe
The Marina Cafe is a harbor-side restaurant on Staten Island featuring beautiful views of the Great Kills Harbor. We've been proudly serving Staten Island for over 35 years.
Contact us
Address: 154 Mansion Avenue Staten Island, New York, 10308
Phone: (718) 967-3077
Fax: (718) 967-0386
Hours
Mon-Thu: 12:00 pm - 10:00 pm Fri-Sat: 12:00 pm - 1:00 am Sun: 1:00 pm - 9:00 pm